DustRam® West Palm beach, FL
The Original Dust Free Tile Removal Company™
DustRam® is 50X Under OSHA'S Permissible Exposure Limit
Dust Free Tile Removal in West Palm Beach, FL
Hiring a dust free tile removal service such as our West Palm Beach DustRam® Corporate Service Center is the best way to remove ceramic floor tile, adhesive, carpet, stone, wood, saltillo, porcelain, thinset, backsplash, and tub surround.
DustRam® is the inventor of Dust Free Tile Removal, currently with +26 US patents on the equipment necessary for this process.
DustRam® West Palm Beach Featured On
DustRam®

VS The Competitors

DustRam® is the Leader in Dust Free Tile Removal Technology
DustRam® LLC is the leader in Dust Free Tile Removal Technology. With +26 US patents and still counting, our innovative and proprietary equipment is unmatched in terms of silica dust capturing ability. We began developing and manufacturing tools and equipment for the sole purpose of capturing crystalline silica dust, starting in 2008. DustRam® LLC is the only Certifying entity in the nation, with several corporate service centers and 23 Certified Contractors across America.
The patented DustRam® System Equipment promptly captures dust at the point of its creation. We precisely coordinate the whole dust free tile removal process to eliminate and prohibit the distribution of dust particulates at each procedure. Our Certified DustRam® Contractors can remove all types of flooring, including ceramic, saltillo, natural stone, wood, thinset, black mastic glue, sheet vinyl, carpet, adhesives, micro toppings, terrazzo, and other flooring surfaces, cleaner than any other brand equipment or system in existence.
Our system uses patented dust guards, powerful automatic self-cleaning Dust Free Tile Removal Vacuums®, HEPA filters, unique 3D printed parts, and more.
Are You Ready For A Dust Free Tile Removal?
Contact our team of experts for more information on how to get started. Reach out to us today!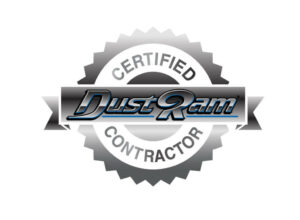 Types of Flooring Material We Remove:
DustRam® is the national leader in dust free tile removal. We are your number one source for flooring removal and we guarantee a cleaner, better, and faster service than any other contractors in the industry. We remove tile at unbelievable speeds and never compromise your air quality. Our system has been perfected through the years and we ensure a completely dust free result. Your home will be clean, if not, cleaner than it was from when we first arrived. Below are the different types of flooring materials that we remove, completely dust free!
The DustRam® System of tools and equipment captures any dust created at the source preventing exposure to dangerous respirable silica dust. By hiring our team, the dust will never go airborne and will not contaminate your home. Choose DustRam® today!
Why Choose Dust Free Tile Removal?
The number one reason why homeowners do not remove their outdated tile flooring is because of the dust it creates. Most people and contractors just don't want to deal with the dusty mess.
At DustRam®, we developed our system to alleviate this problem for the homeowner; however, there is a much more important reason why every tile removal job should use the DustRam® System – Crystalline Silica.
Most people don't realize the dust created in flooring removal and demolition is hazardous crystalline silica.  This dangerous dust is in the air we breathe; however, the concentration of silica we breathe daily is not adequate to cause long term health issues.
In the case of flooring removal, this is not true, especially when it involves cement-based thin-set, leveling compound, tile, and stone.  Due to the high concentration of silica floating around in an enclosed space such as a home or office during a flooring removal project, these levels will always exceed OSHA's Permissible Exposure Level (PEL) by many, many factors.
OSHA has listed crystalline silica as a respiratory hazard for occupational workers.  The medical diagnosis often includes Silicosis and Lung Cancer, as silica has been rated a human lung carcinogen by both NIOSH and the CDC.
If silica dust is terrible for occupational workers, then it certainly is not suitable for you and your family.
Is your current flooring contractor, general contractor, or flooring store is removing ceramic tile floors or other types of flooring without the use of industrial-grade adapters and tooling invented, manufactured, and utilized by DustRam®?
If so, then they are creating a repeated exposure to crystalline silica dust and is a violation of OSHA's Mitigation Standard for Crystalline Silica Dust.
Other than a quick splash of paint on the walls, removing old ceramic floor tiles and replacing them with updated luxury vinyl, hardwood, or just a different color scheme in a backsplash can renew a home and give it a brand-new feel.
One may be wondering how to remove old ceramic floor tile from a concrete floor.  The easiest and best way to remove ceramic floor tile is to hire a licensed contractor who is certified by DustRam® to do dust free tile and flooring removal.
Once one factor in the cost to remove ceramic tile flooring as a do-it-yourself project or by using less than professional services, dust free tile removal is the obvious choice.
By using a dust free tile removal method, one immediately saves on the cleaning, health, and time costs associated with typical demolition work.
The cleaning after one uses traditional floor removal methods, in short, comprises vacuuming rugs, carpets, window coverings, and upholstery.
Additionally, wiping baseboards, walls, ceilings, ceiling fans, light fixtures, windowsills, and tracks; decontaminating or vacuuming out air conditioning vents and servicing the unit.
Let's not forget removing dust from mantels, bookshelves, knick-knacks, hanging photos, removing the contents of and wiping inside cabinets and closets, clothing, shoes, and everything within.
The average cost for this is between $550 and $800 per cleaning. In many cases, it may require three or more scheduled cleaning by professionals over the next several months or, in some cases, years.
Removing all dust and debris is essential to avoid the detrimental health effects caused by repeated exposure as it swirls through the home and air conditioning vents.
For the DIY homeowner, their health is detrimentally affected through natural wear and tear on the body with the operation of rented tools not generally used by the homeowner.
Even with enough protective gear, the process for removing ceramic tile is labor-intensive.
The demolition of flooring creates up to a pound of dust per square foot.  For a standard removal of an 800 square foot area, this is almost 800 pounds of contaminants potentially floating through one's home.
Silica dust particulates created by the usual dusty removal of tile and other flooring circulate within the home or business for months on end, even with a prompt and deep cleaning.
All dust produces issues with pets, children, and the elderly living within the home, but especially aggravates current breathing issues such as asthma, COPD, or allergies.
Silica dust itself causes lung disease and cancer with exposure over time, and it can develop within a few weeks after exposure.
At the minimum, silica affects a person's ability to breathe due to fluid buildup and the scar tissue created.
In any remodel, there is a lot of time put in for planning, implementing, and resolving unforeseen issues.  Anything one can do to save time and money is imperative.
After all, in the construction business, time is money. With the dust free tile removal offered by DustRam® the homeowner and flooring crew save a lot of time by avoiding the hassle of putting up and removing dust preventatives of fans, plastic sheeting with tape, and water, which by the way, do not work.
Pick up of deterrents when using old-fashioned, dusty removal can take additional time waiting for the water to dry before installation of the new flooring can commence or hiring outside vendors for sanitizing the home or business after.
Getting your home or business ready for our unique dust free tile removal service does not usually require packing or moving items in closets or pantries as food, electronics, and clothing are generally not disturbed.
This translates into more time saved as there is no unpacking either.  The floor is immediately ready to turn over to your installer or contractor to proceed with any additional floor prep, should any be required, with the concrete flatter than the day poured.
The best way to take up ceramic tile or floors of any type is with the dustless tile removal offered by a Certified DustRam® contractor using the patented equipment specially designed for dust free flooring demolition.