Dust Free Hardwood Floor Removal in West Palm Beach, FL
Save Money With a Dust Free Floor Removal
Ready to create your dream kitchen or bathroom? Save on your next floor removal project with our Dust Free services. Hurry, these offers won't last long!
Hire a DustRam® Contractor
We are the best wood floor removal experts in West Palm Beach that leave your home DUST FREE - learn more about our processes
Looking for dust free hardwood floor removal in West Palm Beach, Florida? Look no more than DustRam® West Palm Beach! Remodeling your home with new hardwood or tile flooring is a great way to improve and upgrade your residential property. Removing your floors using the traditional, dusty method can bring you many problems that make this investment not worth the stress.
On average, hardwood floors can last over 25 years before requiring a little TLC if provided with the right maintenance and care. Once your engineered hardwood floors reach a point of no return, they inevitably need replacing.
DustRam® is the only dust free wood floor removal contractor in the area. Our team can easily remove 2 to 3 times more flooring material in a day, week, or month, than others without our equipment. By hiring DustRam® to do the job, you can save time and allow for a more expedient ROI on your investment.
If you are looking for a contractor that can handle the job and do it well, DustRam® is the answer. You can find comfort in knowing that our team of well-trained professionals capture the wood dust using our specialized equipment designed to contain small debris particles, leaving your home dust-free and protecting you from the dangerous silica dust.
Get a Free Project Estimate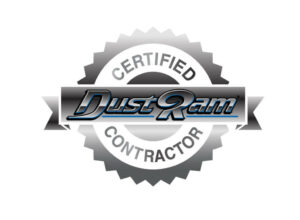 Engineered wood floor removal can generate pounds of dust particles that are harmful to your health and is not necessarily the result of the existing wood floor; but rather the concrete sub-floor or concrete based leveling materials installed over the concrete.  These materials allow the engineered wood, luxury vinyl, or laminate floors, lay perfectly flat.
During the removal process, the leveling compound, also known as float or underlayment, emits dust containing crystalline silica, a known respiratory hazard.  The traditional way of removing wood floors leaves you with excess dust that pervades your home, and it is hard to get rid of for months or even years to come. It also creates an exposure to the silica dust from the float.
Breathing silica is particularly dangerous in enclosed spaces and is too small for the HVAC system to filter.  Therefore, large amounts of silica and repeated long-term exposure by the inhabitants of the home are, in fact, hazardous.  In other words, your lungs are the filter leading to Silicosis and even Lung Cancer.
Get a Free Project Estimate
DustRam® Captures 99.99% of the Dust & Never Releases it Back in Your Home
DustRam® brings you innovative solutions to the problems caused by removing floors the traditional way.  Our modern approach and technologically advanced equipment set us apart from the rest.  Our team eliminates exposure to dust particles during the wood floor removal process using a combination of specialized tools and equipment.
Our equipment and refined processes remove the wood swiftly and efficiently, leaving your home dust and debris free.  With our patented DustRam® equipment, there are no fumes, wood dust, duct cleaning, dusting, or sneezing!  Most importantly, we eliminate the exposure to Crystalline Silica, which prevents significant illness down the road.  Choose DustRam®, the industry leader, for your wood floor removal today, because you cannot put a price on your health! Contact us today for a dust free hardwood floor removal in West Palm Beach.
Most Contractors Don't Remove Adhesives and Glue or Use Inadequate Methods
Additionally, engineered wood and luxury vinyl floors are secured to the sub-floor using an adhesive or glue.  Once the flooring material's removal is complete, the glue or adhesive needs grinding to bond the new flooring material to the concrete sub-floor properly.
Flooring stores or installation contractors rarely remove adhesives and glue utilizing this method due to their inability to control the dust. Most flooring companies use inadequate methods of removing this type of bonding agent. Generally, scrapers are used to take off the surface glue. The remaining glue becomes a barrier to a proper bond between the setting agent (thin-set, leveling compound, etc.) of the new floor and the concrete or sub-floor.
Grinding glue and other types of adhesive is typically the dustiest work done inside of a home.  If not correctly implemented, this process creates exposure to Crystalline Silica dust, as the grinding process scarifies the concrete or float while it removes the glue or adhesive.
An additional benefit of the dust free grinding of engineered wood glue or adhesive with the DustRam® System is that the grinding process leaves behind anchor patterns or scarification marks on the concrete subfloor as the glue is ground away. This aids in creating a more permanent bond with the new floor and its setting materials, and the sub-floor.
In fact, if the engineered wood floor is replaced with a stone or man-made tile which requires a thin-set to be used as the bonding agent, then grinding the glue would be required according to ANSI A.108. This standard for tile installation shows the importance of proper engineered wood glue removal by mechanical scarification. DustRam® can perform the dust free grinding of engineered wood floor removal in West Palm Beach and simultaneously provide the added benefit of anchor patterns per this important standard.
Have Questions? We Have Answers
The Advantages of Choosing Dust Free Services Over Other Methods
Whether you are renovating or remodeling your home, flooring installation is a great way to improve your space's aesthetic looks and increase home value.  The removal process that comes before the installation of your new floors is critical. Many homeowners are not aware of the modern floor removal methods that leave your home in better condition.
We use our uniquely designed patented vacuums to be the workhorse of our system. These vacuums could run all day long, sucking up debris and fine particles that would destroy even a high-quality shop vacuum.  Below we cover the many benefits of a dust free wood floor removal compared to the traditional way of getting it done.
Hire a Dust Free Wood Floor Removal Contractor Today
Get a high-quality dust free hardwood floor removal in West Palm Beach, Florida with DustRam®! By hiring our team of experts, you receive a top-of-the-line experience.  Our industry innovative technology solutions enable us to bring you a floor removal, dust free!  Do not compromise your health or the cleanliness of your home!